CBD For Pain - How Science Doesn't Meet The Marketing 2021, A Harvard Health Study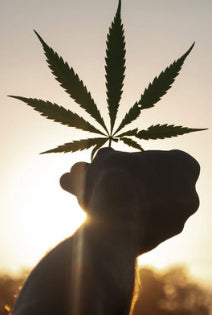 Topical and dietary CBD have been making waves in the wellness marketing we see new products launching everyday. When it comes to topical CBD for wellness or pain, do you know what you are consuming or why you feel you need to consume it? Science and Marketing have not always seen eye to eye in the past when brands have decided to use science to back up their claims. As is the case of CBD extracts in products for pain in humans. There is a growing market for CBD in pain relief and cosmetic products. Where cannabis sativa extract has been used in cosmetics for many years now, for pain relief and inflammation, it is a relatively new innovation and will become a widely developed commodity for the medical and personal care/cosmetics industries.
People are looking for novel, non addictive ways to treat pain - Harvard Health Publishing
CBD or cannabidiol is one of the many molecules from cannabis (and can also occur in other plant species) that has shown the effects of receptor modulation in humans. CBD is the non-psychoactive component from cannabis that has emerging promise as a pharmaceutical agent to treat pain, inflammation, seizures and anxiety without the 'buzz' that other cannabis molecules such, as THC (tetrahydrocannabional), cause with use.
The former illicit drug's reputation as a hippy paradigm has now made a cultural shift into being accepted as a therapeutic solution for many symptoms such as anxiety, nausea and pain with scientific backing and formal government legislation in Canada since 2018. This market shift toward the wider cultural acceptance of therapeutic cannabis is finding consumer brands rushing to market to fulfil marketplace demands with unsufficent scientific alignment.
The reality is, and many science institutions (FDA, UK Commission, WHO) have agreed, that there has not been sufficient testing, length of study, nor broad-scope subjective data collected on longterm human effects that is available to us today. Remember, it takes decades to complete human, broad-scope (many different ethnic and biological test subjects) clinical testing. And currently the oldest modern clinical test results from humans occurred in the 1970's. Scientists now know that the body is full of endocannabinoid receptors that are related to the body's functions such as moods, pain and functions of the neuropathways. There is a universe of research yet to be discovered relating to specific neuropathways for individuals and it's titration and longterm use effects.
Currently, more than 50 countries have adopted medicinal cannabis programmes while Canada, Uruguay and 15 US states have legalized its recreational use, with Mexico and Luxembourg having political debates as to whether to follow that path. - UN News & UN CND (Commission on Narcotic Drugs)
Currently, CBD is not FDA approved for consumer use in Canada or US for pain or for anxiety. CBD is only FDA approved as an adjunct form of medication to treat a very rare and specific form of epilepsy, with which doctor care is necessary. In 2010, Health Canada approved a combination therapy using a cannabis extract a chemical called naboximals that contain THC and CBD that have been used to treat spasticity. 
In 2020, 70% of a study group believed there is stigma associated to CBD products - Kline Consumer CBD Products Report
Practitioners and their patients alike are eager to gain the benefits that CBD can provide. At this point, the benefits are good in theory but the long term studies do not exist. Therefore, we know that we can not only rely on trending posts or magazine marketing as our only source of information. Sometimes a reactive marketplace can be misaligned with the current scientific proof. Looking to the future of CBD, we see great growth potential based on the major shift in cannabis' cultural popularity.
Quick Facts - Harvard Medical Studies:
CBD exerts its pain-relieving effects through its various interactions and modulation of the endocannabinoid, inflammatory, and nociceptive (pain sensing) systems.
Our understanding of the role of CBD in pain management is continuing to evolve; the human endocannabinoid system is involved in regulating many functions of the body such as metabolism and appetite, mood and anxiety and pain perception.
CBD comes with potential risks such as adverse effects and/or death with use with other medications such as blood thinners, heart medication, immunosuppressants, can cause liver damage
FDA has issued many warning letters to companies marketing unregulated CBD products which do not contain the FDA levels of chemical concentration or have made false claims.
Don't make CBD your first or only choice for treatment; until there is high-quality scientific evidence in humans, it is difficult to make a recommendation for the regular use of CBD in chronic pain management.
CBD market may hit $24 BILLION by 2024
Photo: Kline - Future holds promise but challenges & obstacles remain
Sources: Harvard Health Publishing, Harvard Medical School, Kline Group -The Future of Cannabis in Beauty, Forbes
Leave a comment
Comments will be approved before showing up.